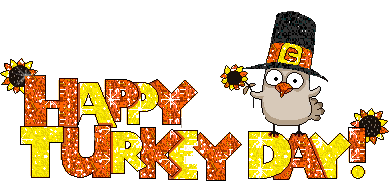 This should be a day of thankfulness to be with family, to be alive and to just enjoy the day off! Don't make it ALL about food. I am not lying to myself not long ago that was all I cared about on Thanksgiving heck I dreamed about the stuffing and mashed potatoes.
Today, not so much, the last 2 years I've reflected on life and where I am in it. I like where I am at now. I plan on exercising in the morning before going to my Mom's not because I plan on pigging out, but rather because that is apart of my life now. I want to make sure I get that in because it makes me feel so much better about myself.
Make sure you think out what your going to consume tomorrow, don't just go into it with blinders on and mouth open. Trust me, you'll hate yourself afterward and we all know that feeling is no fun.
Get out and do something for YOU before the family comes and food goes into the oven. Take a walk and figure out why you should be thankful and how you can treat yourself better, a few minutes alone exercising is a wonderful meditation method.
Oh, and mother's stop pushing the kids to eat all their food, start teaching them to stop once their full. That's a tough one for me yet today, some times I just want to eat, eat, and eat who cares if I'm full or not. I always hate myself afterward and so does my blood sugar....not a good thing to do and Thanksgiving shouldn't be a day of guilt, self-loathing or sadness.
You will still have a wonderful day even if you measure and weigh out your food. Don't let what others do consume you and make you feel or think you have to eat it just because they are, you don't!
When you can walk away with no remorse, you'll start to learn what true Thanksgiving is and find yourself at a new place in life. God Bless...
~The Motivational Girl~